The Bored Fish era is a coloqial name for the timeline known as Fishamajig 807.08 Iota, as defined by Customercon scientist Cleverbrane. According to him, it is approximately 4,691 furlongs to the left from the Axiom Nexus.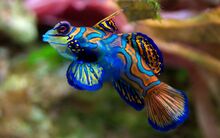 The history of the timeline is poorly defined, and seems to be a general mish-mash. drawing from the Tyrann and Primax universal streams, with a bit of Aurex thrown in for funsies. No effort has been made to keep timelines, technology or even what Transformers look like and how they function consistent. If this universe has a Primus, he's stoned off his fase. You probably don't want to think about what Unicron is like either.
Characters of the Bored Fish era
Autobots
Maximals
Decepticons
Predacons
Mini-Cons
Humans
Others
Locations of the Bored Fish era
Planets
Locations
Factions of the Bored Fish era
Spacecraft of the Bored Fish era
Technology of the Bored Fish era
Miscellany
Community content is available under
CC-BY-SA
unless otherwise noted.