Deep Desert That Guy
Biographical information
Homeworld
Physical description
Alternate Mode

Something that looks like a M1 Abrams MBT, but isn't

Gender

Male

Sensor color

Angry red

Personal information
Allies

Other Customercons

Enemies

Arbitrary Autobots, Certainty

Profession

Heavy

Chronological and political information
Era(s)
Affiliation

Customercons
"You know, me. That guy"
—Deep Desert That Guy
Within the ranks of the Customercons with their mass-produced body types, it can be difficult for individuals to stand out. It is this problem that Deep Desert That Guy faces regularly. Even though he's one of the rare Boofhead body type, he tends to be frequently overlooked by his fellow Customercons who have some degree of difficulty remembering who he is. The result was that they keep on referring to him as being 'that guy'. What makes this even more maddening is the fact that 'that guy' is the general purpose term used to refer to any Customercon.
In order to overcome this lack of identity, he volunteered for the Customercons' brand extension and spiffy repaint program. Under this scheme, a Customercon is given a new paint scheme and gets an extension to their name in order to create a more distinctive identity. In his case, he received a new tan colour scheme (sometimes with rust red, chocolate brown or even energon blue highlights) and the 'Deep Desert' extension to his name.
Unfortunately, this did not seem to improve his ability to be identified at all. Instead, his fellow Customercons picked up on part of the moniker, but missed the actual point. As such, they started to refer to him as 'Deep Desert… that guy'. To make matters worse, somehow the idea settled in that it was his actual name, which served to be even more frustrating for the massively, heavily armed Customercon.
During the Customercon invasion of Earth, Deep Desert That Guy was chosen to be a part of Black Crystal Pepsi Convoy's elite strike team. Unfortunately, it the selection process consisted of the evil black repaint reading out a list of names, ending with "…and that guy."
Capabilities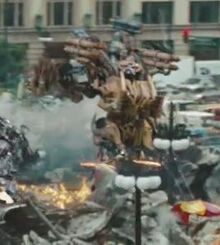 As is typical for the Boofhead body type, Deep Desert That Guy is very strong and durable and possesses an incredible arsenal. However, as is also normal for the body type, he is rather slow and relatively clumsy. He is also surprisingly intelligent for a Customercon, at least enough to know just how badly he's being overlooked.
Deep Desert That Guy's vehicle mode is an obvious prop tank. In both modes, he possesses a large number of weapons including a Shatterpants cannon, two multi-barreled wibblesquirge guns, twin back-mounted anti-lobster rifles, two four-shot zonkblarther munglefoot missile launchers, a quad-barreled gribblesnork cannon and a fold-out stabbenflabber. If all that fails, he likes to pick up Fillor types and throw them at the enemy.
Community content is available under
CC-BY-SA
unless otherwise noted.