Optimus Prime
Biographical information
Homeworld

Cybertron

Date of birth

?

Date of death

early 22nd century, revived minutes later

Physical description
Alternate Mode

fire truck

Height

?

Sensor color

blue

Personal information
Allies

Autobots

Enemies

Decepticons

Profession

Autobot

Position

Prime

Chronological and political information
Era(s)

Animated

Affiliation

Autobots
Optimus Prime is the genuine leader. Fearless, kind, and true, he never backs down from a challenge from the Decepticons. Unfortunately, the fact that his former friend, Sentinel Prime, is in the Elite Guard while he isn't makes him a little depressed. Ultra Magnus sees true potential in him, and he may turn out to be a great leader.
Fiction
Transformers Animated: A New Story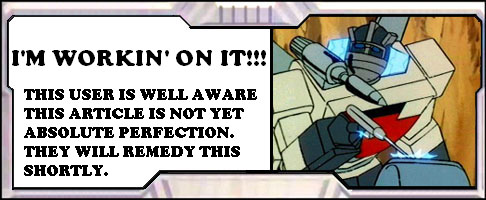 Transformers Animated Adventures
Optimus and the Autobots began digging through the Decepticon base just days after Megatron's defeat. When Waspinator attacked Bumblebee, Optimus ran to find out what happened. By then, ol' Waspy had retreated. Bumblebee was still moping several hours later. Rodimus Prime later came to earth and warned him about Decepticons. The Decepticons soon arrived, and since Ultra Magnus had come to earth to help by fighting Megatron, Optimus fought Starscream.
Toys
Wingblade Optimus Prime (Voyager, 2009)
Wingblade Optimus is a Voyager who will come out in May.
Trivia
His weapons include a battle axe, a hand blaster (held only by the Voyager toy, shown below), and a whole lot of fire-fighting tools.
He has a retractable mouthplate.
Here is a video review of Optimus:
Community content is available under
CC-BY-SA
unless otherwise noted.