Sentinel Prime
Biographical information
Homeworld

Cybertron

Date of birth

?

Date of death

not yet dead

Physical description
Alternate Mode

Monster truck w/ snowplow

Gender

male

Height

?

Sensor color

blue

Personal information
Allies

Autobots

Enemies

Decepticons

Profession

Elite Guard

Position

Prime

Chronological and political information
Era(s)

Animated

Sentinel Prime is a galaxy universe-class jerk. Graduating from the Autobot Academy where Optimus Prime did not, he looks on himself as a winner and Optimus as a loser. Ultra Magnus dislikes Sentinel's jeers at Optimus, often even chastising him for it. Sentinel's weapons include a lance and energy sheild. Until a few months ago, he'd never seen a Decepticon up close.
Fiction
Transformers Animated Adventures
Sentinel Prime served in the cafeteria at the Autobot Academy by handing out plates. He later went to the gym and fought a Decepticon stand-up. He was quite impressed by Wheeljack's strength.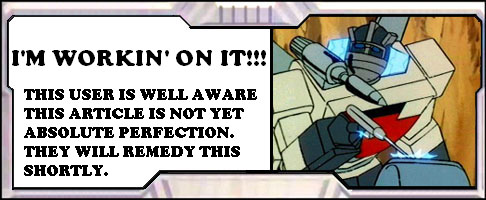 Trivia
Really, until a few months ago, he'd never seen a Decepticon.
Community content is available under
CC-BY-SA
unless otherwise noted.