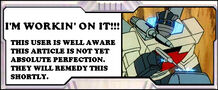 Transformers: The Last Prime
General Information
Seasons:
1-TBA
Creator:
Wev
Genre
Action/Adventure
Series Details
Distributor:
Allspark
Language(s):
English
Transformers: Last Prime is series created by Weven1 who wanted a Transformers series under his supervision and having that on more than meets the eye.
Plot
This is a soft reboot to G1 and takes place before the Great War and explores the origin of Optimus, Megatron and their respective factions.
Characters
Episodes
See the guide: Transformers: The Last Prime/Episode Guide
Trivia
In the first half of the series the original Thirteen will be introduced.
The series is mainly based on G1 (various characters such as Optimus Prime based on their G1 counterparts), Animated (Hound homages Bulkhead), Armada (Megatron homages Wheeljack), Aligned (Makeshift (RID 2015/Combiner Force Overload), Zeta Prime)
Community content is available under
CC-BY-SA
unless otherwise noted.